August 21, 2017
Hello everyone,
Quick update on the Keezel front: Aike just got back from China to check on our production line. Here is a short mobile recording of the new batch of electronic boards for your Keezels.
As you all know: our top priority right now is to produce and ship all remaining Keezel orders.
We understand all of you like and deserve to receive your Keezel as quickly as possible. And we are painfully aware that it took much longer than we expected it would take. After the technical issues were solved, the lack of finances was keeping us from fulfilling all orders. In the past months, we have been raising money from investors. We already shared some news of that with you previously. With these funds we were able to get production started in China again.
We got emails from some of you who asked if they could help us, possibly by investing in the Keezel company themselves. This started the idea to create the opportunity for anybody who is willing, to invest more in exchange for ownership of a part of the company. We launched this new campaign early last week. Its momentum, in combination with conversations with our current investors, made it so that we are now back on track again to produce all pre-orders.
We know that to some of you this may feel a bit rude, asking for investments while we are still in the process of shipping. In a perfect world, we obviously would have delivered all the Keezels already. However, given the situation we were in and the options that were available to us, it still seemed like a sensible way to achieve our short-term goal: to ship all Keezels to our customers as fast as possible.
We are on (a new) schedule to ship all orders within the next 2 months. We understand that we stretched your patience a lot and we have been overly optimistic in the past when we gave delivery schedules, but we can see the finish line from here. Hang in there with us for just a little longer. We are doing our best.
Thanks,
Friso & Aike
 July 3, 2017
Hello everyone,
Quick update on current status. The Chinese factories (see map below) are producing the parts needed to assemble the new batch of Keezels. We have had to make some new mass production tools for the antennas. This will allow us to make more antennas in a shorter time. Antennas will be up to the same high standards in terms of quality. At the same time, Friso and I are arranging for new investments to come in. We should have news on this within 2 weeks. It all looks very promising and if all goes to plan it allows us to complete final payments to our manufacturing partners within the next month.
I understand that you are all eager and simply want us to ship all your Keezels. Believe us, there is nothing we would rather do. Raising money was and is taking longer than expected, but we are now getting really close to being able to deliver your devices. Once we have shipped all your devices, we can sign the deals with distributors and retailers and grow the Keezel community. Don't forget, we will spend a lot of effort in providing upgrades to your Keezel along the road. We have many interesting features that we will roll out to your Keezels in the coming year. We intend to make a product that lasts and keeps getting better and better.
And sharing is caring, here is a map that we recently used in a presentation that we thought might be interesting for some of you. These are our current partners that helped us get to this point. At the same time our core team still only consists of 5 people, though we plan to expand that as we go into the next phase.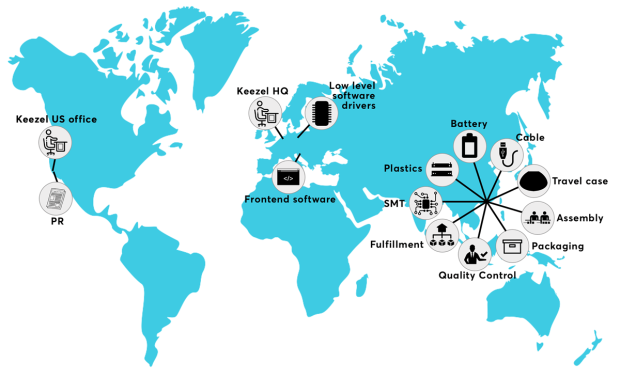 May 9, 2017
Hello everyone,
Our apologies for the lack of communication in recent weeks. I realize that excuses can't make up for that. For a number of reasons, we lost track of it. It shouldn't have happened.
Some of you are angry with us. Others send us kind and understanding messages, which we appreciate very much. Let me be clear: we are not filling our pockets. We are working as hard as we can, pushing ourselves through our stress limits trying to make it all work. Yes, we do make mistakes. We also try and fix them as best as we can.
Running a team for 2 years and bringing a new product to market is very costly. Big brands require many departments to bring a new product to market (product design, software, hardware, testing, legal, sales, marketing, finance, pr, customer support, hr).  Many tech crowdfunding projects – as most of you know, Keezel started out as a crowdfunding project on Indiegogo – raise money from investors. That's how they can have a large team working before launching their campaigns. As we've explained in previous posts, we ran in quite some issues in the past year, exhausting more of our funds than planned.
We are also talking to investors to build the company. Last December we had found an investor. We agreed on a price, the amount of shares they would get and were discussing smaller contractual details. Combined with positive beta-test results, this gave us the confidence to place the order with our Chinese partners. To our dismay, the investor bailed on us shortly after and left us hanging. Our Chinese partners stopped production, as we had bills that we couldn't pay.
In the past 4 months, we've been working hard to raise money and to find investors that are a good match for Keezel. The first investor is joining and we have very positive conversations with more to complete our fundraising round. We will resume production in China and speed up the shipping of Keezels.
This is the latest planning. We are confident we can make it this time.
We will ship to our earlier backers on Indiegogo (who pre-ordered a Keezel before you) during the coming months and we aim to have your orders shipped in July – August.
In hindsight, we feel we could have shared more of this part of the journey earlier. We had a lot of internal discussions about this but we chose to wait on sharing this information until we had more certainty. If you have questions, do let us know at support@keezel.co
Thanks for being a part of this journey and for all your patience and support.
March 28, 2017
Hello everyone,
Short update regarding delivery: We are currently shipping new Keezels every week. We know that many of you are eagerly (and rightfully so) awaiting your turn. We have given our planning an update and we will proceed as fast as we can, but unfortunately, this means April won't be it for everyone.
The current planning is to have the latest ordered Keezels shipped in June / July.
Given the change in schedule, we will also modify the delivery month for newly pre-ordered our website to July to reflect this planning.
In the meantime. we have started work on:
Making the Keezel secure for multiple user scenarios. This means you could share your Keezel with a colleague (or your kids) without them having access to your Keezel settings.
Improving the "scan for new networks" time. This is a tricky part, but we are diving into the wifi driver code to see if there are ways to make the wifi module perform quicker.
We have found some bugs in Keezel to Keezel and are currently figuring out a solution. We hope to have a fix soon.
With our current larger backer base using the Keezel, we have discovered a new (DNS-based) issue using the Keezel with hotel networks. We are working this out right now and will send out a software update soon.
We know we are asking an enormous amount of (extra) patience of you, which is why now, together with our legal team and current shareholders, we are also looking into the various options we have to compensate you all for your time and support.
As always, you can send any questions to support@keezel.co
February 28, 2017
Hey everyone,
It just dawned on us this week that we never told you why we named our device "Keezel."
For those who don't know, we chose the name Keezel (which sounds the same as the Dutch word kiezel, meaning 'pebble') as we wanted to simplify online security. We were looking for an organic, simple shape and name combination.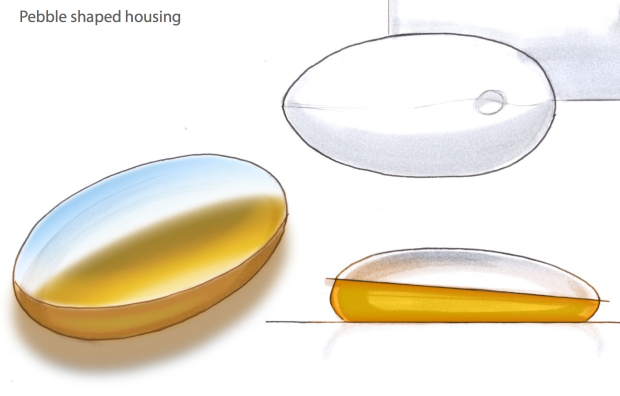 Shipping
In the past weeks, we have been busy verifying shipping addresses and sending Keezels to early backers. For Dutch readers, you can read a review of one of our early backers who also happens to be a reporter:
"Keezel is better than a vpn-app in 3 ways.
It is nice to also have an external battery with you, since our smartphones in 2017 are still running out of battery quickly.
Keezel is easy to use. Setting up a vpn-connection requires hardly any effort and once you are connected to your Keezel, you don't need to pay any more attention to it.
You'll always have your own WiFi network. You can take your Chromecast with you when traveling, which you can control on your Keezel network. Using your own Keezel network, makes it such that you don't accidentally connect to a unsecure WiFi hotspot."
New Software Features (coming this week)
Hidden networks
A hidden network is a WiFi network you cannot normally see in the list of nearby WiFi networks on your phone or laptop. You will now be able to connect to these networks.
Check for new software
We added an option in the 'about' screen where you can now check to see if there is a new software version available and enjoy it right away!
Send troubleshooting log
We have no idea what you do online with your Keezel. However, this can make it hard to help you with troubleshooting when something is not working. For this reason, we added a button where you can choose to send us a log-file (this doesn't contain any of your passwords or websites you visited, but it does for example include scan-results of nearby WiFi networks). So if you experience an issue and want to send us an email about it, you can send us a log which helps us help you!
A specific port
We added a menu setting that allows your Keezel to use a specific way to communicate (TCP on port 443). In this mode the Keezel works on more restrictive networks. The downside is that performance on telephony applications or games is not as good as with the default protocol, UDP.
January 30, 2017
Hey everyone,
As you know, Chinese New Year is upon us and with it, there are Keezels rolling out of the assembly line. This is where everything comes together: the PCB (electronics board), the Keezel casing with the top-shell, the packaging, manual, a reversible USB charging cable and a handy surprise will all be put in a sturdy box. Every single Keezel is tested in detail before being shipped out.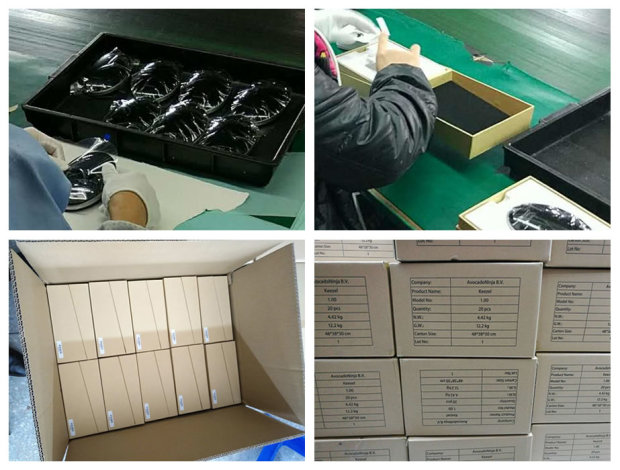 Shipping has started
We are sending a small number now at the end of the month to do a trial run of the entire process, after which we'll ship more and more Keezels. Together with our fulfillment partner (who helps us navigate customs, duties and taxes in dozens of different legislations), we will continuously learn and optimize all throughout this huge logistical operation that is shipping Keezels to over 100 different countries. Depending on what we encounter in terms of production yields and shipping challenges, we aim to have all the Keezels shipped to our backers within the next 3-4 months.
User feedback
Here are some of the comments that our very early users and testers have given us in the past few weeks.
Phillip: "The use of the Keezel with my home network went very well as it was a breeze to set up and use."
Tom: "The packaging, instructions, and unboxing is a great experience."
Lawrence: "Right now I have been connected for 3 days continuously on an unsecured hotel network and it has worked flawlessly."
Tim: "It feels good and solid and shows quality. "
Obviously, this doesn't mean that 'the job is done'. We'll continue to work to make the experience even better and will keep improving the software as we see plenty more cool things we can do and improvements we can make!
Software plans
We will provide over-the-air software updates to all the Keezels to keep them up to date and to expand functionality!
Apps: Keezel works with any WiFi device and can be controlled from any device with a web browser. However, by bringing you iPhone and Android apps you will have greater control over the Keezel, making it an even better experience.
Anti-Phishing: In addition to the Keezel adblocker you already know about, we'll be adding anti-phishing to protect you from accidentally accessing harmful links/websites. This will work on any device that is connected to your Keezel.
December 12, 2016
Testing & Shipping Update
Beta-test news
An awesome group of international backers have been (and still are) extensively testing the Keezels. We are very happy with the wide variety of experiences the Keezel has encountered: it has been to 5 continents, used in motels, at campsites and in skyscrapers! There were also plenty of recommendations and learnings that we were able to implement. Here are a few:
The Keezels are supported via over-the-air software updates. This is important for continuously providing the Keezels with the latest version of the software.
We released a new Keezel software version that added a couple of new features. Now the Keezel supports 5GHz networks, has a built-in ad-blocker and offers auto-reconnect functionality.
Beta Keezels were sent out all over the world. Some shipments took longer than expected and we are currently working with our warehouse and shipping partners to streamline the shipping process.
We want you to always be connected to the fastest server possible. Therefore we have greatly enhanced our 'recommended server' system.
We created a backend for our support team so that in the future, we are able to answer any customer support questions faster.
Good news from China! We contracted a new, final assembly partner that is not only able to assemble faster, but also has more consistent results. Good to have them on board.
Concerning hardware, the new antennas work exactly as they should!
Shipping news
Today, we have released an order for Keezel's mass production. According to the timeline we received from our partner, we will be able to start shipping Keezels in January, before the Chinese New Year (first come first serve).
Once your Keezel is ready to be shipped, we will be sending you an email to let you know. The logistics are being handled by our shipping agency and when they have your package ready they will ask us to confirm the delivery address with you.
December 7, 2016
Testing Update
Hi everyone,
This is Friso here.
My apologies for the long radio silence on our part. (We sometimes get caught in the loop where we think 'This is not news-worthy, but next week we'll have more news, let's do an update then!')
Technical update about the beta-test:
Things are looking good. We have shipped more Keezels to beta-testers and it looks like the hardware including the new antennas is in good shape. We have been working to improve assembly as the antennas require careful positioning underneath the Keezel shell (there are two antennas attached to the dome). We are testing each Keezel after assembly to check the antenna performance. For this reason, we have re-written our testing software that is being used at the factory as well.
We have also improved our backend dashboard software to make sure that our customer support is able to do more troubleshooting without requiring assistance from a developer. This should help us handle customer requests quicker.
Sending the first Keezels to testers has also allowed us to test our warehouse and shipping process. We have had some shipments taking longer than expected and we are currently in talks with our warehouse to see how we can improve communication to our customers and the tracking info.
Our early testers have been providing us valuable feedback on the software, thanks everyone! We pushed a new release to everyone who has a Keezel. At the same time we are working on more software improvements for the next release, such as:
Display mac address in the UI for backers who want to use mac-filtering

Improve advanced settings functionality: auto-reconnect, 5ghz and ad-blocker

Support more captive portals

Introduce protocol and port toggle in advanced settings for use when you are on a network with severe restrictions.

Deploy extra monitoring servers to improve the server recommendations in the UI.
At this time, we are in talks with our factory about starting the production and should be able to give you a starting date soon.
Feedback from Testing
October 26, 2016
Hey everyone,
A quick update on how the testing is going: the feedback we have been getting so far has been positive and encouraging, which makes us confident that the hardware is all set thanks to the new WiFi module and changed antenna configuration.
During the next week, we will be sending out more Keezels from this latest batch to get more feedback from a broader group of backers.
In terms of software, we are hard at work fixing any issues that our testers discover and report:
For example, we noticed that the Keezel finds WiFi-repeaters with the same network-name separately. This means that you would see 6 networks with the same name, as these were all separate networks. As a result, the list of discovered nearby WiFi hotspots can sometimes be very long, so we are aggregating these into 2 groups (2.4GHz and 5GHz). This way you can choose if you want to connect to the 2.4GHz or the 5Ghz group, so to speak. The Keezel will then pick the strongest signal within these groups.
We are also testing with more and more captive portals (where you need to sign in or accept network terms and conditions), so now we are systematically going to the Amsterdam airport, hotels, international coffee chains, co-working spaces etc. to make sure that the Keezel works in as many locations as possible where captive portals are active.
Last but not least, we are currently working with 4 different Keezels at the same time in our office and the good news is that there seems to be limited interference between the Keezels, so if all your friends are going to get Keezels in the future as well, things should be just fine.
To celebrate this piece of good news, here's a peek inside our electronics factory that one of our Chinese team members made a while back. The video shows how the electronics for the Keezel are made.
P.S.: Because some of you have sent emails about becoming testers, we want to remind you that the list of testing volunteers is quite large, so not all of you who signed up to be a tester will get to do so. We are really sorry about this, but being a small team, it would be logistically impossible for us to manage a pool of testers so large.
But if you have any other questions, don't hesitate to send a message to support@keezel.co
Current Status & Next Steps
October 17, 2016
Hey everyone,
First, here's a quick recap of what has happened these past months:
– after discovering the interference issue, we analyzed the possible reasons and narrowed it down to the antenna configuration and the WiFi modules
– we tested: different antenna configurations and a new WiFi module that supports both 2.4 and 5GHz
– we made the necessary changes to the electrical design and PCBA layout to accommodate the new WiFi module
– since the module was a bit big for the enclosure, we made some changes to the enclosure and also the mass production tooling; don't worry though, it is the same shape and size as before.
– we found a new antenna vendor and had them design dual mode antennas (2.4 & 5GHz)
– we ordered modified plastics & PCBs and sent the prototypes to the antenna factory to integrate the antennas in the redesigned Keezels
– we tested the new antennas and optimized the prototypes with additional grounding of both the WiFi module board and the antennas with grounding pins on the PCBA
As for what we're doing now:
A batch of Keezels featuring the new WiFi module and changed antenna configuration are currently being tested and we are gathering and analyzing the feedback as we speak. Based on the results of the test, we will put in the order for the rest of the units with our manufacturer. We will keep you posted on the results of the testing here on the blog.
Next steps
Once we have finished the testing phase, we will be able to plan out the updated delivery schedule and share it with you.
Testing the New Keezels
September 21, 2016
Hey everyone,
First of all, our apologies for missing the weekly deadline (twice!), the Berlin expo took a bit of a toll on our schedules, but we're doing our best to catch up and get back on track with the updates.
Next week, a batch of Keezels featuring the new Wifi module and changed antenna configuration will be sent out to a new group of backers who volunteered for testing – the list has been finalized and the testers contacted already, so we'd like to say sorry in advance to those of you who volunteered but have not been included in this round. We are incredibly happy and grateful that so many of you offered, but we needed to trim the list in order to have a manageable test group.
Once we've delivered these units and have started collecting feedback, we will work on finalizing the updated delivery schedule for the rest of the Keezels and we hope to be able to share it with you soon.
P.S: When we received the new units from China, we did a little bit of testing ourselves and got really good results & performance in a co-working space where 3 of us were connected to the same Keezel at the same time.
IFA 2016 and 'Keezel Home Connect'
September 9, 2016
Hey! It looks like I broke my habit of a weekly update by a couple of days. IFA (consumer electronics trade show in Berlin) happened and we are just now back in Amsterdam. I'm writing this using the latest Keezel in a co-working space.
In Berlin, we met with backers, press, distributors, investors, other hardware startups and the general public and let them use the device. Feedback was very good.
IFA was all about 'Smart Home' and we showed off the use of the Keezel in the home to protect the home network from hacked IoT devices. We call this proposition 'Keezel Home Connect'. Since shipment was held up by the antenna interference issue, our software team had time to work on this product. The great news is that it will be available for free to current Keezel backers when it is released!
Another nice thing about IFA is that the team lived as digital nomads in Berlin and we were able to test the latest devices that I brought from China in the wild. We used it in our AirBnB, on the show floor, in coffee shops and gas stations along the road. It is finally getting the shape that we envisioned. Battery life is great and WiFi performance looks very promising as well (even though more little tweaks with regard to antenna grounding are to come in the final version). We will resume beta testing with this revision next week. More news then.
Antenna optimization and bench testing
August 31, 2016
Our antenna supplier did an analysis of the latest prototypes in combination with their latest antenna designs. The result is that a number of things can still be improved. This includes additional grounding of the WiFi module board and additional grounding of the antennas with grounding pins on the PCBA.
Those improvements are currently being made and tested.
We did a bench test of the prototypes on Saturday (before the improvements). The results were reassuring, though not yet fully satisfying. Antenna cable length and exact positioning of the antenna in the case had significant impact on the results.
Based on the the bench test results, however, we have enough confidence that we have placed an order for Wave A.
On a side note: The bench test took all afternoon and was finished late in the evening. That was the moment that I realized that the team had to spend the better part of the night in the factory. The rain had turned the neighbourhood into a lake and we had to wait until it stopped raining and the water went away at 3am.
SMT & first tests
August 24, 2016
SMT on the two daughter boards was run on the 21st but the main board was produced yesterday which gave me the chance to see the production myself and to show you some photos. The process ran smoothly. It ran on an older SMT line that the company is using for smaller batches. While the line has some years of service under its conveyor belt (sorry I had to) it is still a very reliable piece of machinery and the full quality set up was used including multiple stages of visual and X-ray inspection. We ran the board twice on the same line (front and back) and with reconfiguration of the machine it took some hours. That is why the first functional test could be done today.
The board performs functionally as it should and the antennas seem to play well with the new board. First wifi performance tests look good as well. The first tests were run in an office environment and the results give enough confidence to order more antenna prototypes. These will be ready by Friday together with the modified plastics. We will load our operating system on the device tomorrow and make adjustments in our custom test software so that we can formally bench test 10 prototypes on Saturday.
New antenna samples
August 17, 2016
Our antenna supplier has engineered the first samples that support the 5GHz WiFi band. We'll verify the performance over the next two days.
SMT date
August 12, 2016
There is not much news, except that everything is going according to plan. All the major suppliers (antenna, PCB and plastics) are working to get the modified components ready.
We have confirmation from the PCB supplier that our boards will be ready on August 18. We will run SMT on the 20th or 21st. The modified plastics will be ready around that date as well. We can start testing those boards right away and I can verify the results  personally when I arrive on the 23rd.
Updated electrical design is finished.
August 5, 2016
The electrical design of the Keezel main board with the new WiFi chip is finished. We have placed an order for the 'naked' PCBs.
Our antenna supplier has received the prototypes and started developing the new antennas for the new WiFi chip and the new frequency band. The whole process of developing and testing will take them 13 days from today.
We are confirming a date for the production of the Keezel boards (SMT) for the next DVT. (Because of the antenna issue we were bumped back from PVT to DVT.) According to planning we'll have a set of DVT devices for testing, (re)certification and exhibition at IFA within August.
I will travel to Shenzhen in two weeks for  acceptance of the devices and to confirm performance testing.
Module integration and prototypes.
July 28, 2016
We have confirmed that the new WiFi module can be integrated without severe modification of the tooling for the enclosure.
Building prototypes for the antenna factory took a bit more time but they are ready now and the antenna factory will start building optimized antennas for the new wifi module (current design supports 2.4 GHz only.)
We have briefly tested throughput of the new module in the enclosure with the current (not optimized) antennas and the performance looks promising. (25MBit on 2.4Ghz and 30MBit on 5Ghz, iperf client to local server without encryption, busy office environment with interfering WiFi traffic)
Integrating the new module
July 21, 2016
We have extensively tested the alternative module and concluded that it seems to fit all requirements.
We are currently integrating the module on the board. There are some changes in the lay-out but these are quite small as I explained earlier. The new solution is approximately the same size as the previous modules and impact on the mechanical design (the enclosure) is very small. This would be very good news as we don't need to modify (or even re-manufacture) the enclosure tools which is a very costly process in terms of time and money.
Prototypes will be sent to our new antenna partner next week to design new dual mode (5ghz +2.4ghz) antennas.
Our software team is making good progress in accommodating the new solution. The behaviour is different and asks for some changes but software won't be a limiting factor in getting the devices out of the door.
Promising results with new module
July 15, 2016
We tested several Wi-Fi module configurations outside of the enclosure. The results are very promising we are getting speeds that are far beyond our previous configuration. The next step is to integrate the module into the enclosure and to test that configuration.
In the meantime our mechanical team is analyzing the impacts on the enclosure. The new Wi-Fi module is larger than our current modules and small adjustments need to be made.
Solutions we're currently testing
July 7, 2016
Hi, guys!
Another quick update on where we currently are.

Terminology
First, bear with me for a tiny bit of terminology.

Keezel has two wifi devices:
One device acts like an access point (like your home router) and allows your devices to connect to the Keezel. Let's call this one 'AP'.
The other one is a WiFi client (station) that connects to the (open) WiFi you want to connect to. Let's call this one STA.

Wifi uses two frequency bands, 2.4 GHz and 5GHz, respectively.
2.4GHz has been used since the beginning, all WiFi devices support this frequency and it travels further than 5GHz.
5GHz is a newer frequency that fewer devices support, but they include most of the modern devices we now use, e.g. the iPhone since 5 and Samsung since Galaxy S2. It has the advantage that, as opposed to the 2.4 GHz one, the space is less crowded. Within the bands, the frequencies are divided into channels. Wikipedia does a much better job explaining this here if you need more info:https://en.wikipedia.org/wiki/List_of_WLAN_channels

Antenna signal interference

We have pinpointed the problem to be interference between the two antennas. The issue basically boils down to the fact that in very crowded situations or when you are far away from the host access point, the STA antenna is pushing out a lot of energy.
That energy is basically drowning out the AP signal that the user's device (laptop, phone..) connect to (even though they are on different, not neighbouring channels on the 2.4GHz band) .
In the past days, we have been working very closely with our antenna manufacturer to come up with new antenna designs and configurations. We have identified a couple of configurations where we made the antenna that is connecting to the user's device more directional. The signal is more focused in one particular direction and more energy can be pushed that way. This configuration, however, has the problem that Keezel is much less effective in multi-user and multi-device settings where people sit around the device. This is a big problem for our users. Also, the directional advantage quickly loses effectiveness the more a device moves further away from the Keezel.

New modules

In parallel, another team is working on a solution using different WiFi modules. The new module would allow for 5GHz and 2.4GHz combinations. We know that 5GHz is not as prevalent as we would like. That is why there will be a fall back to support 2 times 2.4GHz as well.
While new modules sounds like a big electrical and mechanical change, the impact is limited as we are using WiFi modules that are connected through onboard USB to the CPU. There are few changes to the electrical design and the PCBA layout.
Samples with the new configuration are on their way to Amsterdam and we will be doing some functional testing early next week.

As always, we will keep you posted.
New info coming soon
July 1, 2016
Hey, everyone!
Really quick & short update to tell you that we've been doing more tests with different antenna configurations and exploring other avenues as well for finding the best solution to the interference issue.
We'll have more news & info for you from our team in China next mid-week.
Have a great weekend!
Slow wifi throughput in certain situations
June 27, 2016
Hi everyone, this is Aike here.
As you know, we currently have an issue that we discovered during the beta-test: interference is causing low internet speeds in some common usage scenarios such as a crowded cafe.
We are seeing some good speeds at our lab (and in our office) when we are around 10 meters away from our office router. With VPN enabled, we get around 12 Mbit (enough to stream two full HD movies at the same time and then some). However, in crowded places this drops rapidly to unacceptably low speeds.
In the past couple of weeks, we have hired various experts to check if the issue was WiFi driver related, power related (we re-checked electrical components), module related, USB related or antenna related. We have narrowed this down and have spent several nights in the factory to work on a lot of iterations with new antenna prototypes. Even though these antennas have improved the situation in terms of top-speed, they have not done the same in terms of reliability, so we are still seeing some sketchy performance in certain situations.
Our current plan is to improve antenna design and introduce better shielding on the board to see if the interference can be reduced to a level where it is no longer causing these slow speeds. This requires some time for troubleshooting and for prototyping new antennas and shields that fit our current board.
We will keep you updated as we expect more news from our team in China later this week.